skip to main | skip to sidebar
Labels: Banky W for Cocacola Campaign, CELEBRITIES
Leaving my house for the office this morning, I spotted one of my favorite billboards had changed look and to my greatest excitement, it's one of my favorite Nigerian R&B artist, Banky W. YAYNESS!!!
0 COMMENTS
Labels: CELEBRITIES, Cissy Houston, LIFE AS WE KNOW IT, whitney houston dead
Heartbroken Cissy Houston, mother of late diva, Whitney Houston penned an open letter to her late daughter that reveals an interesting event that happened the day Whitney died.
0 COMMENTS
Labels: Beyonce and Jayz, CELEBRITIES, GLAM EYE WATCH
Hip Hop's newest parental powerhouse made their way to Nets vs. Knicks game Monday night to watch Jay's team take on Jeremy Lin & Carmelo Anthony. Taking a bit of a breather from doting on 6-week-old Baby Blue, The Carters made it a date night to take in all the LINsanity. And the twosome hugged and laughed it up on the sidelines.
Bey, in a bright yellow blazer and skinny jeans and her statement blue nails, chilled beside her hubby as they watched their Nets win over the Knicks. She was spotted dancing and having fun courtside as the couple made their first joint appearance since the birth of Blue Ivy....and Beyonce's third appearance after hitting Carnegie Hall two nights in a row recently to watch her man perform for the Shawn Carter Foundation/United Way charity concerts.
Pics of Beyonce & Jay-Z arriving to Madison Square Garden here too
Is that DJ Clue back there?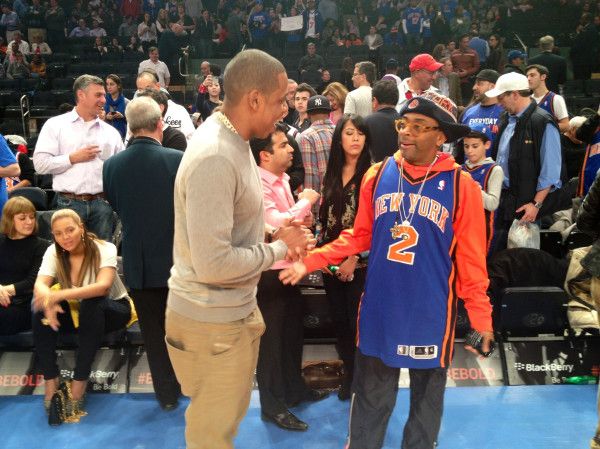 Oh yeah Jay?
The cutesy couple was spotted leaving the Garden as well. Cute printed Louboutins for Beyonce...
And they hit up the West Village to grab some post-game Chinese food at RedFarm!
0 COMMENTS
Labels: Celebrites, CELEBRITIES, Happy birthday Rihanna, Rihanna at LFW
I LOVE RIHANNA!!!
Oh yeah I know, you have heard that a million times.
Rihanna turned heads as she arrived for the Stella McCartney London Evening Wear Presenation in London.

The singer almost had a boob malfunction but managed to catch it before the paparazzi.
Riri and the bestie Melissa look like they had a nice time before they arrived.
Rihanna wore a plunging emerald green wrap dress with a high slit and gold sandals to the event.
AND THEN RIRI GETS ON THE TUBE WITH FANS CROWDING HER ON HER 24TH BIRTHDAY
Rihanna is celebrating her 24th birthday over in London today as she prepares for a performance at the BRIT Awards tonight. See the pics inside...
Like an average commuter, Rihanna proved how "regular" she was when she hopped on the tube in London today.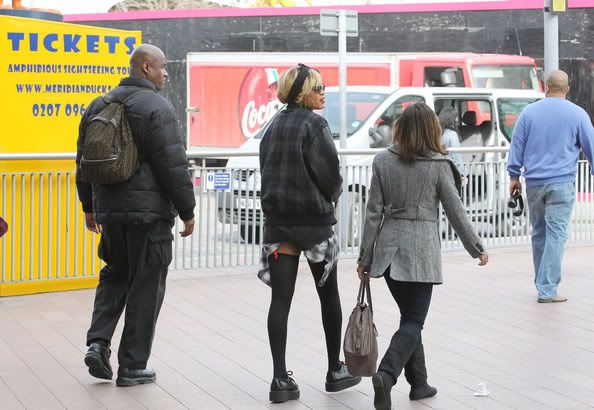 I imagine small things like riding the subway help keep her grounded. And earlier today at her hotel.......
Rihanna was serenaded by fans with a Happy Birthday song.
She's been getting well wishes from fans and friends all day, including
Chris Brown.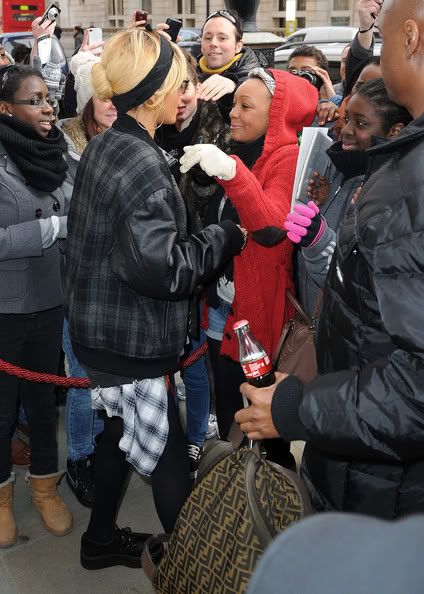 Add caption
And even though its her birthday, the chick is hard at work tweeting, "Brit rehearsal went smoove! Next stop, set up studio in a hotel room. Brits rehearsal was #FAWESOME I'll be turning 24 making mu$ic!!!
0 COMMENTS
Labels: CELEBRITIES, GLAM EYE WATCH, Toni Braxton
Singer turned reality television star
Toni Braxton
was hospitalized in Los Angeles this week due to a lupus flare-up, but she says she is OK.
The artist told TMZ that pain associated with her condition promoted the hospital visit, but that she is fine and thankful for the support of fans and family.
"I wanted to say thanks to all my fans for their support, as I have been experiencing some flare ups with my lupus which has me in the hospital for a few days."
Braxton had been keeping a busy schedule and was in L.A. for a promotional event that she wasn't able to attend. On Wednesday night, her sisters appeared at a WE channel event to promote the next season of "Braxton Family Values." Siblings
Tamar, Trina, Towanda, Traci
, along with their mother
Evelyn
, attended a dinner and screening at SLS Hotel, the show's publicist told us. Toni had to miss the event due to her illness, and WE president
Kim Martin
read a statement from Toni explaining that she'd checked herself into a hospital due to the flare-up but that she was OK.
We're told that the Jan. 19 episode of "Braxton Family Values" will feature Toni's appearance at last year's Georgia Music Hall of Fame awards event held at the Cobb Energy Performing Arts Centre. Toni was just about the last artist to stroll the red carpet before the awards event kicked off. (We got about 20 seconds with her, long enough to shoot the photo above.)
The sisters were supposed to perform, then didn't. The episode synopsis explains why: "Toni gets inducted into the Georgia Music Hall of Fame, and asks her sisters to perform a tribute to her at the ceremony. However, the girls just can't get it together during rehearsals. Tamar once again takes over, Towanda once again leaves, and Traci once again lashes out at Tamar. Ever the peacemaker, Trina tries to pull things together, but they can't pull this one off, leaving Toni and fans disappointed."
The episode's title: "Sisters At War." We wish Toni a quick recovery and hope she is feeling fine in time to see the next episode of "Braxton Family Values!"
She's 48? With this body?
What am i doing here? I should be at the gym.
Well damn Toni. The eldest Braxton sister is looking every bit the fabulous singer that she is these days. Pics of her showing off her killer thighs at her performance last night at the Nokia Theater in L.A inside...
We see her every week battling her sisters and re-igniting her career on WeTV's "Braxton Family Values." And last night, the 40 something performer (her listed birthday is different in different places--some say 10/7/1966 while others say 1967 and 1968) donned a House of Chapple (Reco Chapple) purple sheer extreme waist high slit and backless gown for her performance.
Word has it she's in talks to become the newest judge on Simon Cowell's "X Factor." She's made it known publicly (via Twitter) she would love the opportunity. And we've also learned she's been spotted at the X Factor offices for meetings over the past few weeks.
And if this dress looks familiar....
Remember this 2001 GRAMMYS look? She's still got it...
1 COMMENTS
Labels: Beauty. Brains and Talent, CELEBRITIES, LIFE AS WE KNOW IT, Stella Damasus
If you didn't know Nigerian actress can blog too, now is the time to read and know. Stella Damasus took to her Blog to write one of the most sincere stories by a celebrity which has turned to be very controversial.
Stella Damasus is a multi talented actress, singer, performer and producer. Having approximately 50 films under her belt, she has worked with some of the greatest entertainers in Africa. Stella is also a mother of two beautiful girls. Stella, who has been acting for over a decade, has been said to be one of the best actresses Africa has seen by many critics.
READ HERE
"I looked at the clock on the wall. It was already 5pm and I still had one more homework to finish with my 9 year old daughter. My phone rang a few times and as i saw the name of the caller, i didn't pick it up. My daughter noticed my constant glances at the clock and said to me "mummy you can go you know. It's Friday and I don't have to submit this in school till monday". I really didn't want to leave the house but she went into my room and brought the invitation card to me. "mummy you have to go because this person has been calling for this event for the past one month". I took the invitation card from her and looked at it again, it was for a movie premiere and a lot of hype had been done about this movie. It was the rave of the moment and everyone who mattered in show biz was going to be at this movie premiere. Well, everyone but me. "mummy I know that look. You have to be there". So I jumped in the shower, looked through my wardrobe and got the first thing that my hands could grab. A simple but beautiful dress...comfortable for the evening. As I arrived at the Silverbird Galleria in Victoria Island, the car park was slammed and my driver had issues with parking. "This movie must be amazing" I thought to myself. As I stepped into the atrium at the galleria, I was greeted by a swarm of pressmen. Flashing cameras, microphones and more questions than my brain could process were coming at me like bullets. The red carpet was packed as I saw colleagues, good friends, not-so-good friends, producers and 'everybody' looking like a million dollars. "I must have stumbled onto the red carpet at the Oscars", i thought.
In my normal tradition, I tried to avoid the red carpet because my mission was to come and see a good film. I didn't come for paparazzi drama. I tried to make my way upstairs to the cinema hall but the producer grabbed me by the hand that the movie wouldn't start showing for another 2 hours! "2 hours?!", I exclaimed. What was I going to be doing standing around for another two hours? Quietly, I walked into an adjourning door that led to a store. I chose to rest my legs there till the event would start. From where I was seated I could see the entire red carpet and the activities happening. I saw movie stars all 'glammed up'. Those who were not noticed by the paparazzi did everything they could to get the attention of the press. Someone even caused a scene as she was upset she was ignored by a photographer from "ovation magazine". How bizarre! My mind began to wonder as I saw actresses dressed in $2,000 clothes and carrying $3,000 Loius Vouitton bags. I wondered to myself, "I hope her mother does not live in a rented apartment while she is carrying that bag o" The truth is, this is now the norm in the entertainment industry today. People trying so hard to live the glamorous life, thus struggling on a daily basis to maintain the high life. Entertainers in Nigeria today now want to live like our American counterparts who obviously earn more money and have a better structured system where they are paid royalties. A system where credit facilities are available, such that you can drive a $100,000 car without having to pay the full cash for the ride. Why would a Nollywood actress choose to buy the same dress that Angelina Jolie wore to the Oscars when Angelina earns a whooping $20 million per movie and she earns about N800,000? Besides, Angelina did not even pay for the dress and jewelry because a certain designer just made it available for her to use for the event in return for publicity and brand association. In a bid to stay ahead of our colleague and be the ones to shine, most entertainers will give an arm and a leg to adorn the latest clothes, shoes and jewelry. They take tons of pictures and Blackberry and Twitter are the quickest ways to promote their new outfits or show the world that they attended certain events. They live for the glam life with little or no focus on their craft. At 8:30pm, I started making my way into the hall that the film was going to be screened. As i made my way to through the crowd, i noticed that the red carpet was still crowded and the movie was scheduled to start in a few minutes. I entered the hall and it was quite scanty because the people who were meant to see the movie were still on the red carpet...including the producer and the cast of the film. That was rather disappointing but at least I had time to get a great seat for the best view in the room. 17 minutes later, the hall was packed as the cinema management insisted that they would shut down at a certain time irrespective of when the movie started screening so the producers and their guests were forced to come into the hall for the show to start. Hmmm....finally, the movie started (without us hearing a word from the producer, director or executive producer). 15 minutes into the film I was still wondering "what the hell was going on with these filmmakers?" The acting was horrible, cinematography was crappy, the plot was equivalent to watching a snail in the NASCAR race and the actors were speaking such poor English in their bid to sound foreign (mind you the movie had nothing to do with anyone that lived in the US and returned home to Africa). You could tell from the response and silent whispers from the audience that they all felt the movie was absolute crap and a total waste of their time. Slowly, people started to make their way out of the cinema just 20 minutes into the movie. That did not come a surprise to me because I was tempted to get up a million times but I really wanted to see where the movie was heading because as a filmmaker too, I know that some plots take a while to pick up but this one was taking a fast downward spiral into the disaster zone. The story line was weak and extremely porous. The actors that I just saw on the red carpet showcasing all the expensive dresses and jewelry proved that they were made for the red carpet and not the big screen. What a downer!! If the producers had put half the effort they put into the planning, coordination, glamour and attention to detail of the red carpet into the actual film itself, this movie would have cleared a minimum of 5 Awards at the Africa Movie Academy Awards. Compared to how show biz was in Nigeria in the 80s and 90s, entertainment in Nigeria today has been extremely polluted with negative lyrics. Movies now celebrate obscenity with total and absolute disregard for the moral values we hold dear and sacred in this part of the world. Entertainers are more conceded about the sizes of their bank accounts and how they look in front of the cameras for the paparazzi. Nobody cares if they are having a positive impact on their fans and generations yet unborn. These days celebrities have made it a norm to celebrate their birthdays in orphanages. They make a media frenzy out of it and make the world believe that they really care. The question is, before and after the parties, do they every stop by these orphanages to find out how they can help improve the lives of these kids. How have they given back to the society or helped people who genuinely have problems that need to be solved. We grew up listening to songs by Onyeka Onwenu, Ebenzer Obey, King Sunny Ade and these people had songs that taught moral lessons and remained ever green in our hearts. Before the era of home videos in Nigeria, we saw plays on stage that made us go home in deep thoughts of how we should affect our communities. I want to give a shout out to a man like Ali Baba who has helped raise a generation of Comedians in the entertainment industry in Nigeria. 80% of the comedians in Nigeria today, at one point or the other, either lived in his house or got assistance from him in anyway, shape or form. Another shout out to Richard Mofe Damijo who took it upon himself to change the lives of people from Warri by creating a platform for them to showcase their talents with the "Made in Warri" series. A few minutes to the end of the film, I slowly made my way out of the now "half empty" hall. The red carpet that was packed early was now as deserted as a haunted house. As I sat in the back seat of the car on my way home, I was full of regrets because I could have stayed home to be with my family. Instead I had to endure the torture of seeing one of the most horrible films ever. What do I want to be remembered for? The Prada shoes, Gucci Bags and glamorous red carpet photographs.....or my service to humanity and the amount of people I have affected positively. I want to be remembered as the woman who used her talent to affect her generation positively. The woman with Beauty, Brains and a whole lot of talent that was put to good use. "
Thank you Stella Damasus for this.
God bless you and your family for this truth. I know this will bring controversies to you but somebody has to say it. Thank you for being that spokesperson.
We have fallen in love with you ALL over again.
Go to www.stella-damasus.blogspot.com for more inspiring words from the DEEVA.
0 COMMENTS
Labels: FASHION WE ROCK, how to wear long skirts, long skirts trend
One of the hottest trends in 2011 was the long skirts and the long skirt is trendy this 2012. Long skirts are a kind of embodiment of beauty, femininity, style and practicality. From what to wear long skirts ? Long skirts are advised to wear in the evening with a sweater or jacket during the day – with a transparent blouse, T-shirt.







Here's how I rocked my long skirt to the Grey Goose TOAST TO TASTE Valentine's party
With Uti Nwachukwu
Skirts are nice because they're comfortable, flattering on just about everyone, and good for those not so slim feeling days. Layering with tights or high boots would keep you warm during the winter, and an interesting belt would add a little more style.
A Classic piece dressed with three different looks, we love it. This Zara Classic is appropriate for just about any season. This Long Skirt is our item of the week its chic, classic and fun!
"Its a good point for me that Can Have the Same garment differents lifes, because I always try and Avoid making the Same combinations, This is the MOST important point to multiply your wardrobe's Possibilities." – MyShowRoomBlog
7 COMMENTS
Labels: LIFE AS WE KNOW IT, Romantic movies of all time
Most of us love to watch romantic movies with our love ones. When it deeply touched our hearts, we usually end up remembering those sweet lines said by the characters of the story. Sometimes these lines become popular and used by people to share with someone special thru written love letters.
The unending glamour of Hollywood has, more often than not, been centered around the wonderful love stories that audiences have been enjoying for decades. Romance is such an appealing theme that even the action and horror movies tend to include a few elements of it, but the best love stories come into their own as part of the dramatic genre. Mentioned below are some of the highest-grossing and most critically-acclaimed romantic dramas of all time, from the classics to the modern age;
If you haven't seen these movies. Call your lover, grab your popcorn and spend the evening awwwing and oooohing.....
1. THE BODY GUARD
2. THE NOTEBOOK
3. BROWN SUGAR
4. CASABLANCA
This 1940's film starred some of Hollywood's elite thespians at the time of release. It is an epic love story set during World War II.
5. DIRTY DANCING
This 80's classic brings two young aspiring dancers (one MAKING the other a dancer) together for a spin at love!

6. HITCHED
Will Smith plays a "Love Doctor" who gets paid to help others find "love". However, he gets a taste of his own medicine when he gets struck by the love bug while coaching one of his own clients.
7. JASON'S LYRICS
This 90's hood classic brings two people together who, from the outside, are totally different. But they have more in common than what meets the eye. Jason's Lyric is a heartfelt

romantic

movie

filled with many ups and downs before love unfolds
8. JUMPING THE BROOM
This romantic comedy brings two very different families together for a wedding at Martha's Vineyard one weekend. This love story is filled with twists, laughter, surprises, confusion, but in the end a happy moment for couple Jason and Sabrina!
9. LOVE AND BASKETBALL
It has been over ten years since the modern day love story of childhood friends Quincy and Monica hit the big screen. These two neighbors were brought together by their love for the game of basketball and took things "off the court" for a fairytale ending!
10. LOVE DON'T COST A THING
This 2003 teen comedy film starring Nick Cannon and Christina Milian is based on the 1987 film "Can't Buy Me Love" and chronicles the everyday happenings of a "nerd" trying to win over the popular girl at school!

11. LOVE JONES
This late 90's movie made reciting poetry "cool" again. Darius and Nina struggle throughout the

movie

to let poetry become life with their strong feelings for each other.
12. MAHOGANY
A 70's tale perfect for Miss Diana Ross. She played an aspiring designer who works hard to make her way to the top in the fashion world; however, she experiences some setbacks and disappointments before finding love right in front of her.
13. POETIC JUSTICE
Everyone fell in love with Tupac Shakur's character "Lucky" as he battled through the emotional wall put up by Justice (played by Janet Jackson) in the 1993 urban classic.
14. PRETTY WOMAN
This movie truly displays the notion "never judge a book by its cover," as a successful businessman falls hard for the prostitute he hires to accompany him to high-profile events.
15. SIXTEEN CANDLES
This 80's teen cult classic centers around "Samantha" and her upcoming 16th birthday, desire for "love", and all of the craziness that leads up to it. And not to mention some very important people forgetting her big day! But one special one who didn't....
16. SOMETHING NEW
This was probably the first

film

that made it appear cool to try "Something New". It's the story of how an African-American woman (Sanaa Lathan) finally steps out of her comfort zone to find love in a different place with someone who looks totally different than her.
17. THE VOW
A super sweet

film

which reached #1 at the box office last weekend and is based off of a true story. A car accident puts Paige (Rachel McAdams) in a coma, and when she wakes up with severe memory loss, her husband Leo (Channing Tatum)

works

to win her heart again.
18. TITANIC
Titanic is a 1997 American epic romance based on the fictionalized account of the sinking of the RMS Titanic. It centers around characters Jack and Rose (Leo Dicaprio & Kate Winslet) who are of different social classes and fall deeply in love aboard the ship during its ill-fated maiden voyage.
19. THE TWILIGHT SERIES 1- 4
This new millennium cult classic has brought together a mix of generations to witness the love triangle between three maturing teenagers. The

movie

based on the hit books, "The Twilight Series" dramatizes the constant battle main

character

Bella has between choosing love with either Edward or Jacob! "Breaking Dawn" is our fave installment!
20. GHOST
After being killed during a mugging, a man's love for his wife enables him to remain on earth as a ghost. He tries his best to keep her protected and feeling his eternal love.










1 COMMENTS
You Will Love