Last night while some of us were busy listening to Rihanna while sleeping, Chris Brown, Drake and Meek Mills were fighting at a nightclub in NYC .
The trio have had a war of words since both(Chris and Drake) being romantically attached to Rihanna.
Drake and Trey Songz were partying in W.I.P. with their Maybach Music Group affiliate homies Meek Mill, Wale and French Montana. They hit up the spot after partying at Sin City with Rick Ross to celebrate their Self Made 2 compilation album dropping in a few weeks.
Drake's frenemy, Chris Brown, was there too, in a different section of the club, popping bottles with Teyana Taylor (who snapped a pic with Meek & Wale while partying) as they celebrated her new G.O.O.D. Music deal. Jennifer Williams, Ne-Yo, Tony Parker & plenty more were also at the party.
According to reports,
Chris sent a bottle of champagne to Drake's table as a peace offering. And unconfirmed reports claim the bottle was returned with a note referring to Rihanna which read: 'I'm f****** the love of your life, deal with it.'
Chris then reportedly flew into a rage and confronted Drake with words and Drake was alleged to have threw a punch. But before Chris could retaliate, onlookers claim another man hit him in the face with a bottle, security broke up the row and Drake quickly left with his entourage.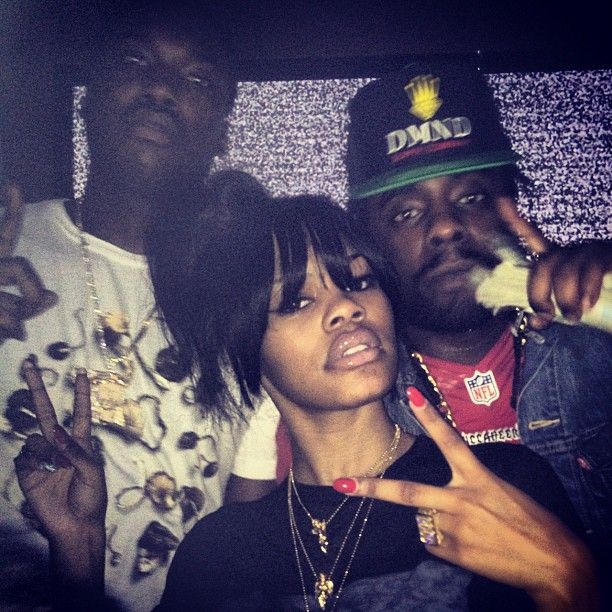 Meek Mill, Teyana Taylor & Wale
The New York Police department
who arrived on the scene after receiving a call between 4 and 5am(But by this time both Chris and Drake had left the scene)
confirmed that as the two singers' crews got into a fight at WIP nightclub - 5 people were injured in the melee.
Chris Brown was caught on video leaving the club in New York
Drake is surrounded by his entourage as he leaves the club

Chris, showed the bleeding chin(picture and tweets below) to his ten million followers before taking himself to hospital.
The photo and the message have since been removed from Brown's Twitter page.
The fight will further fuel rumours regarding the closeness of Rihanna to her ex Brown.
NYC club promoter Jessica Rosenblum was also at W.I.P. last night and blamed "Amen" rapper Meek Mill tweeting:
@WIPNewYork crazy tonite! Maino, Chris Brown, Neyo, Teyana Taylor, Meek Mills, Mary J, Drake & like a million others! #goodnite
And then she tweeted (which she later deleted):
Meek Mill posted an image last night about the situation saying "That p***y must be good LOL" and, of course, deleted it.
But he responded to Jessica saying: "It wasn't me.... (shaggy voice) lol".
A source very close to Rihanna tells HollywoodLife.com EXCLUSIVELY that Rihanna is "distraught" over this story and hopes both guys are all right. Source said "When she heard they were fighting and apparently over her, she shook her head and was like,
'You've got to be f**king kidding me,'"- Rihanna.
The source also added "She clearly doesn't want anyone fighting and especially not over her. She saw the pic Chris tweeted and her face turned upside down. She's a little distraught over this and hopes both of them are all right."
Check out more pictures of the aftermath of the bottle throwing fight:
Earlier this week Rihanna and Chris partied at the same club at the same time for the second time in as many days, leaving within minutes of each other.
TMZ reported the pair were in the club together for around 30 minutes and Brown spent some time with the Rude Girl singer at her table.
Sitting in different booths, the couple still 'kept a close eye on each other' - and Brown sent her over two bottles of Ace of Spades Champagne.
Rihanna and Chris were a star couple, until he was charged with assaulting her in 2009
A video surfaced today of the pair leaving the club minutes apart.
The lovelorn pair have been linked together several times already this year, after it emerged that they had recorded songs with each.

And of late wherever Rihanna is, Brown isn't far behind, as they party at birthday celebrations and nightclubs in West Hollywood.

The sighting comes after another sign that Rihanna is paving the way for a reconciliation with singer Chris , as the raunchy singer reportedly invited the singer to attend a basketball game party on Saturday with her family.
The singer and Brown joined her family
- including grandfather Lionel Braithwaite on Saturday at an intimate gathering at
Jay-Z's New York club 40/40 to watch the Miami Heat beat the Boston Celtics.
A source told
The New York Post
:
'Rihanna arrives first in a yellow cab, with her family and friends, and was
escorted to a private room. 'Brown arrived a little later and joined her and her family.'
The pair have been spotted together often in recent weeks and we don't think anymore, we know they are back together, although no official statement.