Hip Hop's newest parental powerhouse made their way to Nets vs. Knicks game Monday night to watch Jay's team take on Jeremy Lin & Carmelo Anthony. Taking a bit of a breather from doting on 6-week-old Baby Blue, The Carters made it a date night to take in all the LINsanity. And the twosome hugged and laughed it up on the sidelines.
Bey, in a bright yellow blazer and skinny jeans and her statement blue nails, chilled beside her hubby as they watched their Nets win over the Knicks. She was spotted dancing and having fun courtside as the couple made their first joint appearance since the birth of Blue Ivy....and Beyonce's third appearance after hitting Carnegie Hall two nights in a row recently to watch her man perform for the Shawn Carter Foundation/United Way charity concerts.
Pics of Beyonce & Jay-Z arriving to Madison Square Garden here too
Is that DJ Clue back there?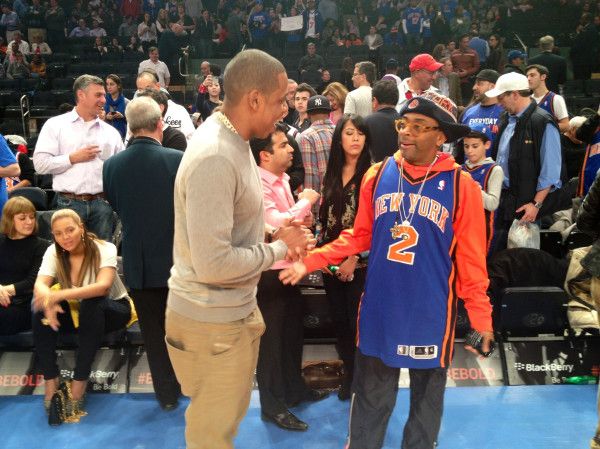 Oh yeah Jay?
The cutesy couple was spotted leaving the Garden as well. Cute printed Louboutins for Beyonce...
And they hit up the West Village to grab some post-game Chinese food at RedFarm!